MidSouthCon: A Multi-Part Story (With Pictures!)

Part I: Friday, March 28, 2003



ARRIVAL IN MEMPHIS

It is only right and proper that US-based Cherryh Pitters who didn't come to MidSouthCon be very, very jealous. You should be kicking yourselves right now. Really, really hard.

[Dramliza: Amen to that!! Let me also mention that I confirmed with CJC, Jane Fancher and Selina that they are all planning to go to Memphis again next year. Start planning now!!]

A full report would take ages to write, so I'll just start at the beginning, and do a bit at a time. Dramliza's got her side of the story, too, I'm assuming she'll chime in as she has the chance and the inclination.

Anyway. We (my friend and I) got into the hotel about 3:30 on Friday. I was wondering about the etiquette of signing Dramliza and her daughter up for the CJC kaffeklatch even if they weren't there yet, but when we got in line, I saw that my name was already on the list! Yay!!! Dramliza's plane had been earlier than she expected, and she'd beaten us there and signed us up. So, that major source of anxiety taken care of, we walked around to get familiar with the layout. We looked at the stuff in the art room, and then--the Dealers Room.

The dealers room was temptation itself. Books everywhere, and a table full of clever buttons ("I see dumb people" "What Would Cthulu Do?" "Diagonally Parked in a Parallel Universe" and on and on... you could spend an hour reading them all and laughing. I bought five....) and, my unsuspected downfall, earrings. I hardly ever wear earrings. These were freaking gorgeous. I bought a single "bajoran" style thingy and told myself that would be the extent of frivolous, non-book purchases for the weekend. I was wrong.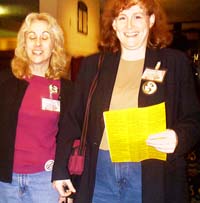 Anyway, we went back to the room and ate sandwiches out of the cooler (our last actual meal until Saturday night). I suddenly realized that I had an infelicitous number of buttons--I had two baji-naji on my shirt (I'd made an iron-on transfer of the baji-naji teapot) and one on a button--felicitous three, but add the con badge and I've got four things. So I added a button, and then tried to figure out if my friend needed another button to balance her single "frodo lives!" and her con badge. We resolved our numerical difficulties and then went back down to experience the Controversies in Archaelogy panel, with CJ. Dramliza recognized us right away, since we were all wearing Baji-najis (or would that be baji-najiin?).

That's my friend, who I'm still trying to get to register here and she hasn't chosen a username yet, so I'll let her identify herself when she shows up, and Dramliza.

I had an extra button for her. I felt bad that I didn't have one for her daughter (hautgirl had demanded one for herself, and I was out of button blanks), but that turned out to be okay, since she (the daughter) was a very nice person who felt very out of place there, poor thing! We didn't feel out of place. On the contrary, the whole time we couldn't believe what a good time we were having!!!


A further note on the kaffeeklatsch sign up . . . It was too early to check into the hotel when we got there, so I hurried to the sign up sheet. There were only eight places for people to really be able to bask in Her Presence over coffee on Sunday morning and at 2:30 Friday afternoon, three spots were already filled. I put in my name and my daughter's (she spent most of the weekend enjoying the whole first season of Six Feet Under and using the hotel's exercise room) and then struggled with whether to put down haut and her friend. It was still early. I walked away and half way up the stairs, then decided I had to go back and put them on because there were only three empty spots left---the rest of the sign up sheets were blank.

When I got back to the board there were people standing right in front of it (not signing up, just standing there!). I opened my mouth to say, "Excuse me . . ." when I realized the people were CJ Cherryh and Jane Fancher. I stood with my mouth open and no sound coming out and finally just walked away (cowardly, I know) and waited for them to leave. After it seemed safe (and I spotted CJC walking around the dealer's room) I went back and quickly added haut and friend to the list!

When I walked back upstairs to register in the hotel, CJC was just coming down and we met on the landing. It was impossible to avoid her at that point so I introduced myself and began a full weekend of fawning over her like an idiot---in person.

There were panels or games in almost every room from 9:00 AM until midnight. There were gamers in the gaming rooms---they disappeared and many seemed never to come out for the whole weekend. Jane Fancher said in one of the panels that she tried gaming once and lost an entire summer.


Okay, enough mystery . . . here's a picture of haut. This was Friday evening, picture #1 after we first arrived. Haut's friend is on the left.


CONTROVERSY IN ARCHAEOLOGY

On the panel was Robert Sawyer, CJ, and, um, I'm not sure who else. Robert Sawyer dominated any panel he was on, which was initially enjoyable, since he usually had something interesting and intelligent to say, but after awhile grew tiresome, especially when we just wanted to hear CJ!!! We learned that CJC hates the Discovery Channel, especially when they do programs on the Romans. They talked for a bit about how archaeology isn't as clear-cut as many other sciences, and they talked about the accuracy of carbon dating, and a fair bit about neanderthals, which was quite interesting.

[Later] Oh, I'm kicking myself for not remembering right away that Jane was on the archaeology panel. She had lots to say that was quite interesting, and was very, very fun and nice. So anyway, Jane was on the first panel, too.


PROPELLANTLESS PROPULSION: An oxymoron or the key to interplanetary exploration?

After that it was time for Propellantless Propulsion with Les Johnson. I had never heard of Les Johnson, and didn't know what to expect. Turns out he's Manager of NASA's In-Space Propulsion Technology Projects, among other things. He's an excellent speaker, very clear, very animated, he really made the subject interesting. And he had nifty powerpoint slides with cool animations (just like the ones you see on the news!). Now I can't wait until summer when his ProSEDS Tether Experiment launches, 'cause it's just so cool! We immediately resolved to attend any and all panels with Les Johnson. There's a website, inspacepropulsion.com .




This [right] is from the Propulsion Panel. Les is on the right and his son & assistant, Carl, on the left. Carl stayed busy handing out NASA stickers and pictures to each attendee and he kept upstaging his father. "Dad, excuse me for interrupting, I'll see you later in the room." He was very cute!

Les Johnson's page [from the program] is here.



OPENING CEREMONIES

Ah, the opening ceremonies. The local SCA opened the con by holding court. Now, this could have worked. It could have been very interesting, but it was, instead, pretty damn lame. I do regret not bringing my camera, since everyone was done up Medieval style. In any event, it was only saved by Media Guest of Honor Michael Sheard, who, when asked to come up and be introduced and get his gift basket, asked for permission to kiss the Baroness, got it, and then proceeded to kiss her and anyone else in reach, male or female. I fear the opening ceremony was the last straw for Dramliza's daughter--I didn't see her again until Sunday.



BLACK HOLES, WORM HOLES AND ALL THAT

Next hour was Black Holes, and the less said about that the better. Now, this has been three hours straight, it's now ten pm, and there hasn't been a single break until now.


MEETING THE GUESTS AT THE CON SUITE

So it was time to check out the con-suite. We had no idea what was up with the con suite, except the website said you could get snacks and soda and beer there. Turns out, that was exactly right. If you had a con badge, you could get snacks, soda, and beer (and coffee!) free of charge. Throw in five bucks, you got entered into some giveaway, and you could have "premium" beers, and a high-alkaloid beverage called Bawls. I thought I might not try that, since we all know the risks of imbibing high-alkaloid beverages. But it came in a cool blue bottle (yes, that's right, blue Bawls), and caffeine had become a necessity, so I tried some. It was very sweet, but otherwise not impressive. I took a picture of it, since it was definitely Not Safe Tea.


We had a nice conversation with Les Johnson in the con suite, too, and going out the door I nearly knocked over CJC! I smiled and said "excuse me" and then two yards further nearly slammed straight into Robert Sawyer. It was a Writer Obstacle Course!


INTELLIGENCE: Terrestrial, Extra-terrestrial, and Artificial

At eleven there was a panel on Intelligence, and that was a lost cause. However, before the panel started I tried to take a picture of the room and someone walked in front of the camera.

I swear it was an accident. After that I was afraid to snap any more pics of CJ lest she think I was stalking her. But Dramliza assured me that she probably hadn't noticed. In fact, I didn't know it was CJ standing there until Dramliza pointed it out, myself--she'd just been facing me for that split second, and I was looking at the rest of the room.


We got to bed at midnight, knowing we had to be up early for the cloning panel. Well, my friend had decided she wasn't getting up that early. And that was the end of Friday evening. We were very excited at having been in The Presence, and also at the prospect of Sunday morning's kaffeklatch. Every now and then people would ask us about our buttons, and then
give us blank looks when we explained. But that was okay, because pretty much everyone there was somewhat eccentric.

Oh, there were also some Stormtroopers there.

[Dramliza: Here are those storm troopers again, slightly rearranged. They were very eager to pose! ]

And this young Jedi was all of three years old.

[Later]

Oh, wait, I forgot something really good about Friday!! The evening was over, and Dramliza said to me, "So what room are you guys in?"

"Three thirtyfive," I say. Guess where Dramliza was?

That's right. 336. Totally by chance. Now that was funny.


NEXT: Saturday's Events....